Banquet Hall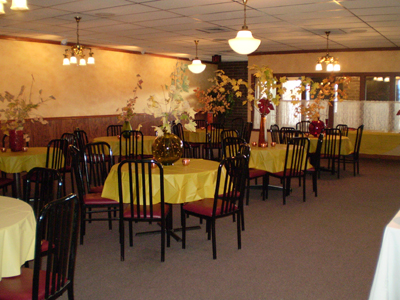 The banquet room is available for:
Birthdays
Wedding Rehearsals
Retirements
Award Ceremonies
Reunions
Graduations
Anniversaries
Christmas Parties
Sport Banquets
Funerals
Company Meetings
Testimonials:
Thank you again for all of your help in making the rehearsal dinner Friday night such a good time. The food was great (as usual) and Amy could not have been nicer and more helpful. Great job!
---
"We wanted to thank you for the wonderful dinner, room, and spectacular service for our holiday party! Everything was superb!
Thank you so very much for making our party a success and memorable"
---
"The banquet room worked so well. (Many guests commented on the beautiful room.) Thanks for your diligence in meeting the needs of all of our guests. The food was presented well and tasted grea! Your employee Carrie did an excellent job at the bar too!
Thanks for all your work. We appreciate all that you did for us."
---
"The women of Delta Kappa Gamma Society extend their appreciation to you for making our October 5 meeting so enjoyable. You and your staff gave us delicious dinners, terrific service, and a pleasant venue. As social chairperson I received so many positive comments and was told to be sure to have another meeting at your restaurant."
---
"Thank you so much for helping to make my birthday party such a fun time.
Everyone
there raved about the pizza. I think you'll find you have some new customers in the future. Some of our friends are from out fo town and whenever they're here, they always want Mike & Angelo's pizza.
Also, tell Nadya that she makes the best old-fashioned in town, and that's not only my opinion!"